Indoor Wedding Reception Venue
"Best of Weddings" – The Knot
"Couples' Choice" – Wedding Wire
Your wedding day is like no other day. And Astoria is a venue like no other. So it's a perfect match!
Here's how to have the best wedding at Astoria on a budget.
We do more than weddings! So get social at Astoria with event spaces for 30-400.
See how happy we've made our clients. You can be next!
Your questions, answered right now.
Want a price quote?
Have questions?
Schedule a tour!
Call (847) 392-7500 or fill out this short form
Our chef will prepare the gourmet meal of your choice, so there's no need to stress over the wedding caterer. In fact, we have so much of what y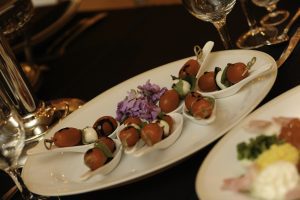 ou need to make wedding planning easy: Centerpieces, linen and chair covers, wedding ceremony decorations, special lighting, wedding cake and more!
There are many beautiful banquet halls is Chicago, but we've mastered the unique combination of affordable luxury in weddings. That's why so many couples have made Astoria Banquets their number one choice venue for a Chicago wedding! And it's no wonder. From the lobby to the Grand Ballroom, ceilings are encrusted with crystal chandeliers, glowing in individually light-scaped alcoves. Silk-damask coverings adorn wall's showcasing elegant crystal sconces. Think historic Chicago hotel! Crystals and accent lights illuminate over 800 square feet of porcelain ivory dance floor, where newlywed couples take center-stage for the first dance.
Banquets is a premier banquet and meeting facility nestled in the heart of Chicago's Northwest suburbs. Centrally located, near O'Hare and downtown Chicago, Astoria is easily accessible via major expressways. For overnight accommodations, we partner with local hotels that offer discounted room rates and complimentary shuttle service.
We host a variety of events, including:
Bar Mitzvah and Bat Mitzvah, Cotillion, Quinceanera, Communion, Commitment Ceremony, Funeral Luncheon, Memorial Luncheon, Sweet 16, Jewish Wedding, Indian Wedding, Pakistani Wedding, Mehndi, Valima, Bridal Shower, Baby Shower, Anniversary Party, Birthday Party, Baptism, Fundraiser, Prom, Dinner,Cocktail Party and any special event!
Banquet room rentals and venue rentals are available for: Corporate meetings, seminars, lectures, fraternal group meeting, club meetings and group meetings. Chicago wedding reception.
Check wedding packages and prices or request additional information
HERE
.
ASTORIA BANQUETS REVIEWS
My words can not express the praise I have for Astoria Banquet Hall in preparation for my wedding day. I was assisted by Irene who helped me with the process and was so patient, helpful all the time and just nice throughout the entire process. My now husband Nelson was so impressed with everything and especially pleased with the food.I can not begin to express how grateful and thankful we are with the overall experience of working with Astoria Banquet Hall. The staff and service that was provided to us on our special day was remarkable. Even though we were running about an hour behind schedule the staff was still so patient and provided excellent service. We (myself and my husband) are so pleased with all the choices we made pertaining to the wedding and appreciate all the assistance & accommodations provided by them. Because of Astoria Banquet we were able to have our dream Wedding with impeccable service. We received rave reviews on the decor, service, and food. Thank you Astoria Banquets for helping make this day a Dream Come True, also for making our wedding beautiful and stressfree.I would definitely recommend Astoria Banquets to any and everyone I know. Thank you, thank you, thank you for an unforgettable night!
Tanesha & Nelson Anderson – Wedding Wire
---
The Astoria Banquet hall could not have been more helpful. They were all very interested in getting the reception the way we dreamed. The decorating, lighting, tables, drinks, and service were all top of the line. I would recommend this hall for any occasion.
Jan – Wedding Wire
---
AMAZING!!! The first word that comes to mind to describe my experience with Astoria Banquets. From the beginning Lara was very helpful in making my vision come true. My wedding day was PERFECT, there was not a single detail that we talked about that was missing. The staff was awesome the day of. Especially the bartender (I believe his name was Frank) he made sure my guest were "happy". We even convinced him to take a picture in the photo booth =), he happily obliged. We had a situation were we learned the DJ was a vegetarian the day of the wedding. Our server asked the chef if he could do anything and he kindly made some pasta for the DJ. This made me very happy; and so was the DJ; he kept the dance floor packed ALL NIGHT LONG. I guess a little broccoli can go a long way…
The food was AWESOME, my guest are still commenting on the grilled shrimp and chicken we served. Overall, I had an amazing experience with Astoria. I would recommend them to any bride; big budget or small they can do it all.
OMG, how can I forget about the uplighting and Gobo. F A B U L O U S!!!! I was blown away with how good they looked at the reception. I really think Astoria should add more items to their decor. They do a great job with decorating. It is really refreshing as a bride to come to a venue where you can get everything you need for decor. CHECK WITH ASTORIA FIRST before looking into other decor options.
Shanell and Rob – Wedding Wire
---
Chicago Wedding Locations Receptions and Venues
Astoria Banquets , your best choice for luxury, affordable wedding in Chicago IL . Providing cheap banquet facilities, reception hall, banquet halls, banquet rooms in Chicago Illinois.
Have upcoming Bar mitzvah in Chicago IL? We do bat mitzvah, wedding ceremony decorations, fraternal group meetings for all budgets
Let experienced event facility organize your Chicago area affordable commitment ceremony, your child communion or cotillion.
Doctor-patient conferences are hosted locally , we help your financial advice boards and focus group meetings.
Taking care of your funeral luncheons, Indian wedding, Jewish event planning, Job fair, providing affordable lecture space, memorial lunch, Pakistani wedding, Mehendi or any type of seminars or corporate meeting.
Astoria is your favorite Chicago wedding coordinator. Choosing wedding location, wedding packages we offer and wedding planning services is easy.
Trust Astoria Banquets with your wedding venue, winter wedding, Indian wedding, Jewish wedding- we do it all.
Snapshots: A Diversity of Chicago Weddings:
Aaron met the woman he was going to marry when he was nearing his fourteenth birthday. He attended the Bat Mizvah of a close friend, and halfway through the night he met a stunning girl named Rebecca. Many years passed before he was able to see her again, but when he did he vowed to himself that he would marry her. The following year they were married beneath the Chuppah in a traditional Jewish wedding.
The best man stood up to give a toast to the bride and groom at a wedding reception in the suburbs. He hoisted the Champagne and spoke with all the love and respect he has for his two friends and their new life. This took place in the most intimate of Chicago wedding locations, instead of deciding to have the ceremony in one of the many a grandiose banquet hall, they chose to use his spacious backyard.
At a luxury wedding in the heart of the city, Laurie attaches her tiara and holds her father's hand for good luck. Chicago weddings are world renowned for their exclusivity and their decadence, and the thrill of anticipation is rising in her throat. She is about to marry the man of her dreams, and everyone will be there to watch her.
During many wedding receptions in the various banquet halls, the bride and groom will cut the cake and feed it to each other as a sign of unity and a finality of courtship; but at a certain wedding reception just outside the city, this grand tradition never happened. The bride and groom had chosen an outdoor wedding, with the reception to follow in the same space. But while the guests were away, and no one was watching, a family of raccoons came up to the two-tiered pastry and promptly began eating it. By the time anyone had discovered what had happened, it was too late. So, instead of wedding cake, the mother of the bride brought out bowls of ice cream; and everyone laughed long into the evening.
At another ceremony in the Windy City, a father dances with his daughter on her wedding day, the two of them reminiscent about the last time they danced together, at her sweet sixteen birthday party years before. For months before the wedding he had been in the hospital. The bride to be had been uncertain that he would be able to even come to the ceremony. But, fortunately, the week previous, the doctors had released him. And here he was with her, dancing, on her special day.
The Astoria Banquets have seen the joys of celebration for many years. People from all walks have life have entered into these grand facilities to rejoice in their triumphs, to honor newlyweds, and to celebrate the events that have made their lives significant. Such diversity makes the world magnificent, and Chicago is one of the best places to be if you want to find it.
If you are looking for local places to get married, have your quinceanera, bodas, sweet 16 give us a call 847-392-7500